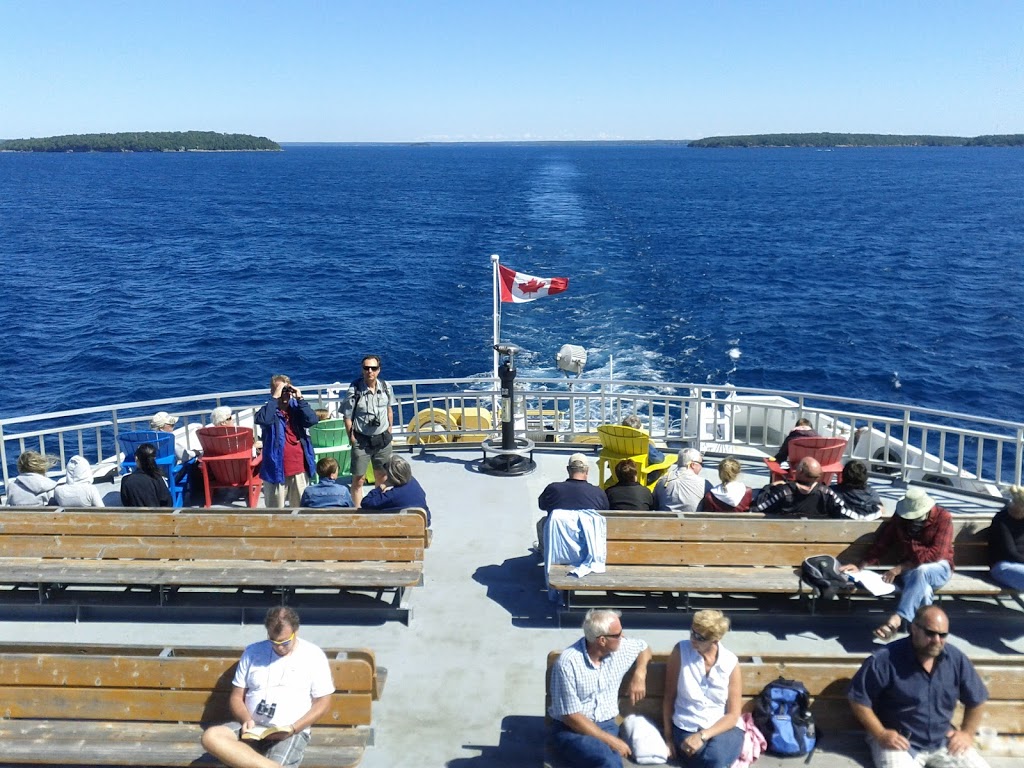 So the Chi-cheemaun was a pretty great way to kill an afternoon. It's pretty much a gorgeous view from end to end. While I was aboard I met the first of a stream of fellow bicycle tourists (tourers?), a group of three guys from Southern Ontario making their way West after graduation before starting work. Since then I've met and shared words with a few other nameless riders, or just a wave as we passed each other going opposite directions. I did however stop and have a chat with two riders doing a
coast to coast run to raise funds for Canadian Olympic athletes
, Rebecca and Daniel here's hoping you guys are having fun and have lots of smooth paved shoulder all the way to the Atlantic!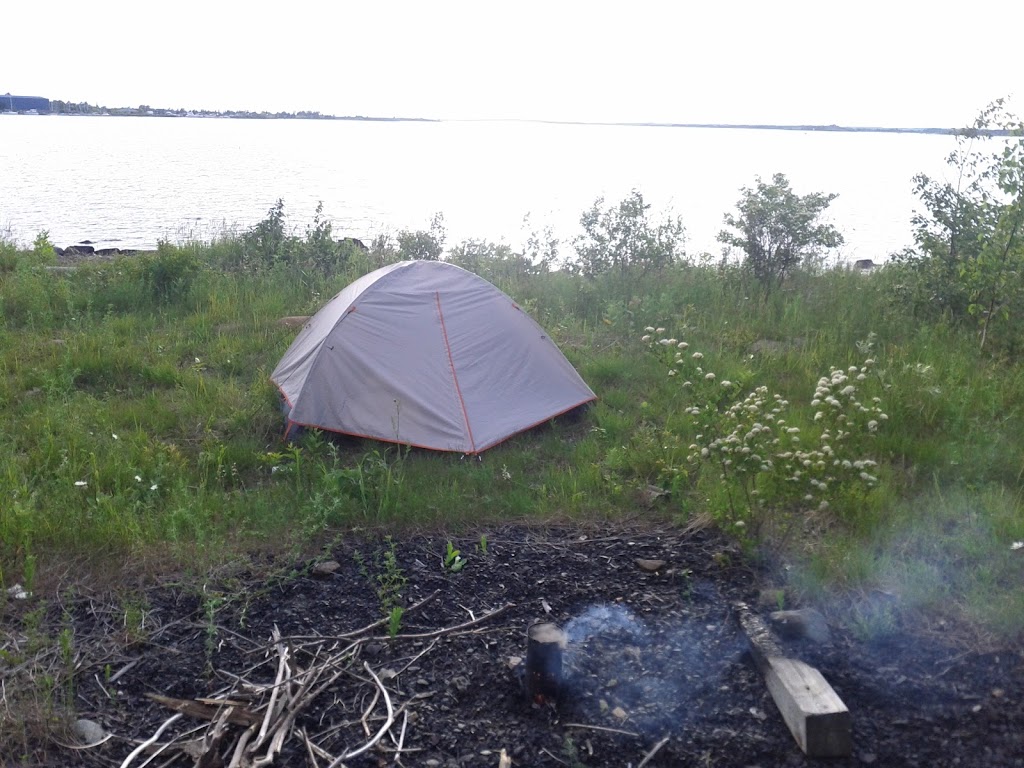 After the ferry I stayed in South Baymouth for the night then made my way as far as Little Current the next day where I was directed to a rough looking spit / island called Goat Island to set up camp out from under the locals feet. The island is owned by CP and is mostly scrub grass and rocks but I found a nice spot on the Huron shore to call it a night. What I didn't realize when I set up my hobo stove was that the big pile of "black rocks" I was sitting on was coal. Turns out half the island is coal. Fortunately I managed not to destroy the place but I did take a bit of a scolding from a local hiker when she saw my set up.
Between Little Current and my next stop in Espanola I started to hit the edges of Canadian Shield territory and pushed my knee a bit too hard on the hills, so I decided to cave and get a motel room for the night so I could ice and elevate. A knee brace and a slightly less vigorous pace the following day did me wonders so I was feeling pretty good by that evening when I camped just outside of Massey and then made for Blind River in the morning.
In Blind River I found something I'd been trying to buy in just about every grocery store I hit since Tobermory; more quinoa. After stocking up and making for the West end of town I ran into yet another cyclist making his way from BC nearly at the end of his trip. We talked hobo camping technique and when I told him I was starting to look for places to make camp at almost four in the afternoon he laughed and said he preferred to wait until eight or so to put up his tent, that way he was still packed up if someone complained about his chosen spot. "Be fast and slick" he said about setting up in a hurry at dusk and "no one will bother you".
Sounded good to me so off I set to be fast and slick, but I ended up being neither.
Just past the edge of town I checked out a rest stop, clearly labelled "No Overnight Camping" and decided I didn't like the look of it. Too exposed. As I was scrutinizing though I met a fella named Tim who turned out to be a tremendously generous guy. We talked for a long while about travelling, work, riding, and where to find good coffee. Before I left he wouldn't see fit to send me off without some snacks, a few Clif's bars, and some quality instant coffee, as well as opening his wallet right there to add a few bucks to the travel fund. Apparently
raising money for the Canadian Liver Foundation in his spare time
just wasn't enough for Tim and I was humbled by his generosity. If you're out there Tim, thanks again, and there's
no time like the present to get started buddy
!
Which leads me to where I am right now. Despite all my searching I could find nowhere to camp along the Mississagi river so I ended up rolling all the way into Iron Bridge around seven in the evening. I heard from a local mechanic that the new owners of the Iron Bridge Motel were happy to have campers set up in their enormous yard for a modest sum so I stopped by. After yapping a while they offered to put me up in a room for a couple nights in exchange for working some modest Wordpress magic for them, so here I am sitting outside my room after a day of bangin away on the interwebs.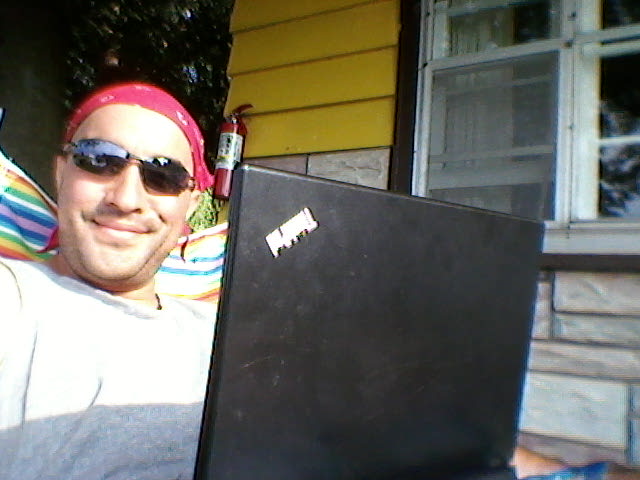 In the next day or two I should be making my way to the Sault, hopefully to stay at a place I've been hearing rumours about since the ferry,
Velorution
.