Calgary, 3 outta 4 ain't bad
I arrived in Calgary on Friday the 24th of August, in what was decidedly the worst weather I've encountered so far. The day before I'd met up with a group of riders who had arranged to camp on some unused land near a gas co-op about 100km from the city. When we woke up and it was pouring rain I was voting to stay betented and read a book, however more adventurous heads prevailed. We set off into what I later read were 50km winds, driving rain, and about 1km of visibility. ie. it was cold and nasty and we were soaked to the skin so we gave up pretty quick and pulled off the road at the very first place we could find to hide out for a while. Thanks to the chief of the Siksika Nation for letting us dry out in the lounge!

It didn't take long to clear up, but in the down time I discovered that the South end of Calgary I was heading for was more easily reached by getting off the trans Canada so I turned to a southern route solo and went off to meet my buddy Mike. Once we'd found each other it was immediately obvious that a Friday night pub crawl was in order, so off we went to some local watering holes; Craft, Ship and Anchor, and The National. The first one reminded me of the Bier Market, Ship and Anchor had a great local semi-dive vibe to it, and The National was the last place we hit so details are somewhat vague. I recall a large electric sign that looked like a departure board at an airport that I think was a drink list. shrug

Along with visiting the local pubs Mike and I checked out a nearby provincial park and then made our way up to my uncle Jeff's place for a big BBQ where I met his wife and kids as well as a fiesty blur of grandkids and visited with my grandad and his lady friend Susan. I also picked up some work while I was in town, got to know Mike's roommates, old friends from school Joel and Jessica and managed to meet up with my cousin Jasmine to meet her fella and enjoy dinner on their patio.

So with a week of visiting, partying, and working under my belt, for the first time since I hurt my knee I began to seriously consider calling the trip to an end. Calgary is a beautiful city, full of friendly folks, with a mountain of work available for the taking. Definitely a place I could happily stay put for a while. I spent a few hours looking for accomodations and I fired some resumes off. Then I got a request for an interview ... in Vancouver.

A company I'd applied to earlier had decided they'd like to meet me. I was torn, so I phoned my brother Terry for some advice. After hearing the situation he cut right to the point. "Go to Vancouver", he said. "Calgary isn't going anywhere, if you don't like the job the city will still be there any time you want to go back". Of course he was right, so I packed up and made ready to roll on. And that's when Calgary started to suck.

It's true Calgary is beautiful (everything is brand new!), friendly, and has a booming economy. Is there anywhere that's not hiring in that city? But try riding a bicycle around town. I spent my week here rolling around on the C-Train and had no problem navigating the city. I spent ONE day trying to find my way out on a bike and most of that day I was lost. Keep in mind that at this point I've navigated my way across a few thousand kilometres of Canada without issue. Streets would up and change names under me with no signage. Rivers with no bridges for ages save an expressway I can't ride cut across my path. Bike paths would suddenly sprout impassable staircases without warning, in one case at the top of a huge hill which I was forced to go back down (wrong way on a one way!) and had to double back up again about an hour later. All told it took me nine hours, with a few stops for errands and snacks, to get from Cranston in the South end of town out to the trans Canada in the Northwest, less than 30km's.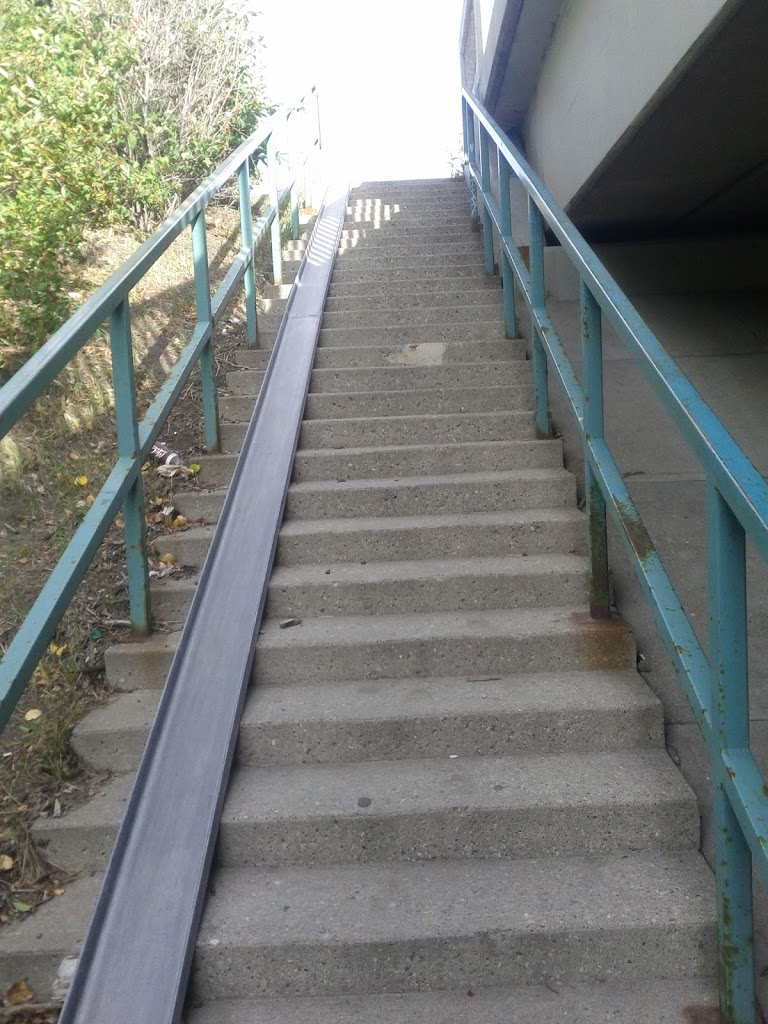 Riding a bike in Calgary -> all my nope.

Since getting out it's been a difficult ride but quite an eyeful. I'm heading through Canmore, Banff, and Lake Louise and should be posting pictures of those and more through the next week or so, stay tuned!