Or How to get a few free beers in TO by being a friendly geek.

A coworker of mine describes the urge to spend money on geeky things as "The Nurge". That nerdy urge to buy a second or third LCD display to add to your master command center simply for the increase in badassery. That longing for small shiny battery (or better yet, fuel cell, or solar, or SELF!) powered things with blinky lights, 802.11 (eh, bee, gee, enn, etc), blue teeth, orange buttons, yellow stars, and red balloons has struck most geeks at one point or another and I am no different. The nurge has struck me, and the object of my desires ist Das Keyboard.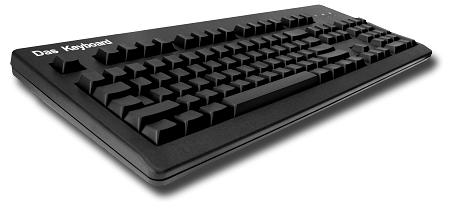 It comes in two flavors, regular and unlabelled. That's right, there's not a mark on the thing except the proud German name across the top. After switching to a dvorak keyboard layout about a year ago looking at my keyboard has done nothing but confuse me. It has also done wonders for keeping co-workers the hell away from my computer, but I feel like I could take it one step further with this.

However like any good nurge, this one comes with a decent sized price tag. The only Canadian retailer noted on the manufacturers site lists Das Keyboard at CDN $170. That being no small amount to drop on a keyboard (not as much as US $1700, but I digest) I would like to actually put my hands on one and bang a few keys before I part with my hard earned skrilla.

So I put the question to you; do you know a retail store where I can lay my digits on one of these bad mamma jammas and take her fer a spin? Do you own one and live in the GTA? If you can set me up please drop a comment and I'd be happy to repay the kindness with cold beverages of your choice at your favorite watering hole.

And while we're on the topic, what's your latest nurge?